The sun is out, which only means more time at home, sizzling barbecues, picnics at the park and fresh summer appetisers. The lovely thing about summer cooking is all the fresh and seasonal produce - there is not much that needs being done to make them wonderful! 
I've rounded up a few recipes filled with the goodness of sunshine - salads, sides, main dishes and desserts. When we're thinking of summer recipes to cook, we think of light, colourful dishes that are quick to prepare. Let's get started! 
1. Tomato, Peach, and Burrata Salad
This colourful Tomato, Peach, and Burrata salad is summer on a plate with the most delicious herb vinaigrette and plenty of sweet summer fruits and burrata cheese. Juicy cherry tomatoes, sweet peaches, and fresh basil tossed together with an herby, tangy honey vinaigrette. Serve this fresh summer salad over creamy burrata cheese and topped with toasted pumpkin seeds for a healthy crunch. It's simple to throw together, but so fresh and flavourful!

2. Easy Herby Lemon Chicken Skewers 
Easy lemon chicken skewers with garlic and herbs are delicious, healthy and fast making them perfect for dinner any time of the year served with simple side dishes. These skewers are grilled to perfection and are soft, juicy and packed with flavour. 
3. Summer Pasta Primavera 
Made using fresh cherry tomatoes, basil, and zucchini. Throw in some sauteed lemon pepper shrimp and you have a gorgeous Summer meal. The natural juices of the tomatoes combined with the pasta cooking liquid makes its own beautiful sauce. Garnish with plenty of parmesan and chopped basil. So fresh and so flavourful.
4. Classic Chicken Caprese
The classic caprese combination of fresh mozzarella, ripe juicy tomatoes and peppery fresh basil is irresistible over tender grilled chicken breasts, especially after being drizzled with a splash of aged balsamic. Fire up your grill and get ready for a tasty meal! 
5. Grilled Brushetta Chicken
Easy, healthy grilled bruschetta chicken with simple seasonings, melty mozzarella cheese, and a fresh tomato and basil topping is the perfect summer meal! So easy and flavourful, a meal you and your family will love!

Go to this recipe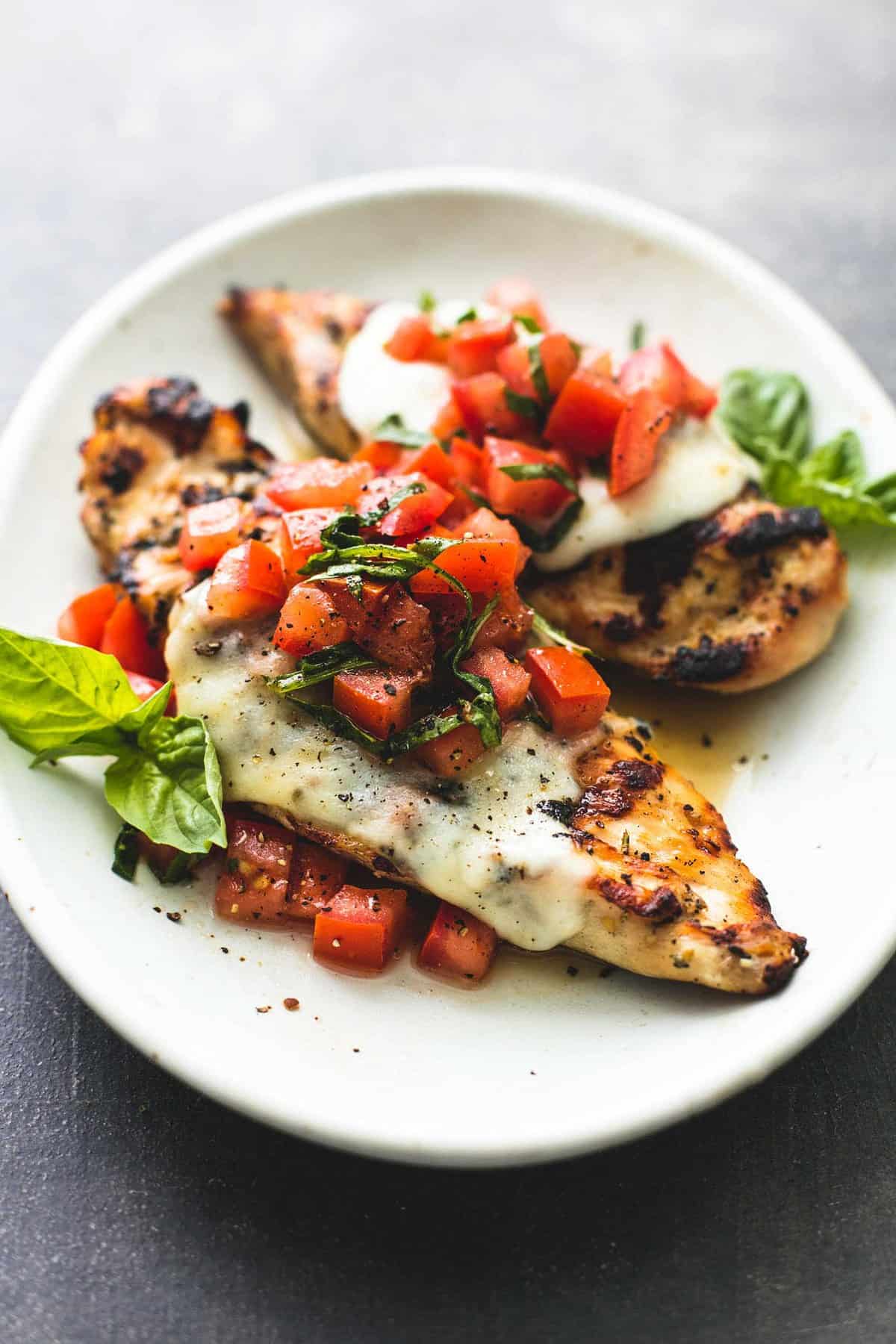 6. Vegan Buffalo Chickpea Salad
These Vegan Buffalo Chickpea Salad Pinwheels are the ultimate party snack or make-ahead lunch. Slightly spicy, perfectly crunchy and healthy! If you aren't a huge fan of spice, don't worry, you can still make this. Swap out the jalapeño for celery and add the Buffalo sauce a little at a time. Easy peasy.

Go to this recipe